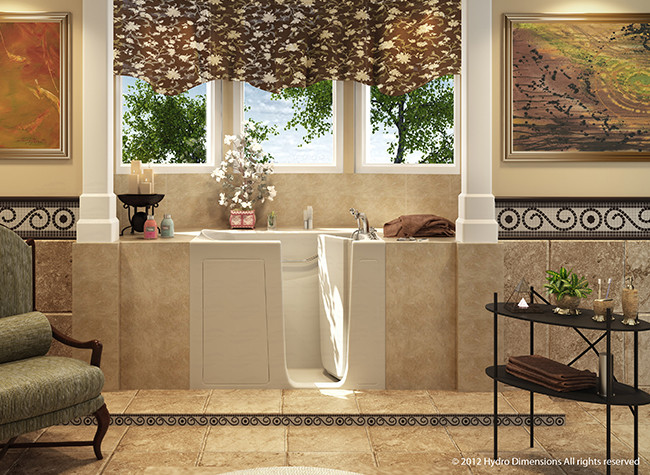 As our parents age, we take measures to ensure their comfort and safety while supporting their independence. A common first step is to consult with a professional to conduct a home safety assessment. In many cases, the addition of a walk-in bathtub tops the list of recommendations. The Centers for Disease Control reports that 1 in 3 seniors will fall each year, with 40% of those permanently moving to an assisted living facility as a result of their injuries. A walk-in tub provides your loved one with:
A safe comfortable, easy-to-use bathtub with therapeutic benefits;
The low-threshold entry allows safer access to the healthy relaxation of soaking in a jetted bath;
Water immersion reduces body weight by up to 90%, taking pressure off joints and increasing vital blood flow to muscles and tissue;
Walk-in tubs can be outfitted with customized jets to target individual needs, and have been shown to provide relief for a number of chronic health ailments;
The warm, jetted water allows your blood vessels to open, improving much needed circulation to extremities, easing the symptoms of diabetes, blood pressure, varicose veins and joint pain.
When shopping for a walk in tub, it's well worth your time to look into available features and consider the level of service offered by each contractor. Consider the unique physical needs of your parent or loved one. If they use a wheelchair, choose a door configuration that allows for easy and safe transfer to the tub. Doors can be fitted to swing inward or outward, depending on the size of your bathroom and individual needs. Most walk in tubs offer built-in seating, but be sure to look for a design that offers handrails where you need them, and uses slip-resistant flooring. In choosing a contractor or installer to handle your bathroom update, look for someone who takes full measurements of your space, including entry doors and hallways. Be sure to discuss your hot water capacity with your installer, as well as requesting a full estimate for the complete installation, including any necessary electrical work. As with any major home update, get all the details in writing—including a timeline for completion and any applicable warranties.
At Factory Direct, we offer a beautiful selection of comfortable, powerful gel-coat fiberglass baths, custom-jetted to meet your individual needs. Enjoy the peace of mind that comes from knowing your aging parent or loved one can safely relax in a therapeutic bath in the privacy and dignity of home. Our tubs are perfect for small bathrooms and spaces where conventional bathrooms do not fit. Call 1.800.748.4147  or fill out the form in the sidebar to learn how affordable luxury and security can be.