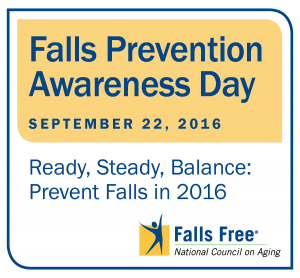 To help bring awareness to the growing dangers of senior citizens and falls, the National Council on Aging (NCOA) calls us to learn more about fall statistics and prevention, and to observe Falls Prevention Awareness Day each September 22—the first day of fall. The changes that put our aging parents and loved ones at risk for a fall can develop over time. We may not notice just how factors like eyesight and mobility have deteriorated until an accident happens. According to the Centers for Disease Control and Prevention, more than one-third of Americans over the age of 65 will fall each year; the number increases to one-half beyond the age of 80. Falls are the leading cause of fatal injury, and also the most common cause of nonfatal, trauma-related hospital admissions for older adults. Since more falls occur in the bathroom than anywhere else in the house, it makes good sense for the health, safety and independence of your loved one to take action and make the bathroom safer. With normal aging, we lose the strength and stamina required to stand for long periods of time in the shower, or the ability to return to a standing position after sitting in a low bath tub. Bath chairs can help augment traditional bath tub use, but loose shower curtains, heavy shower doors and slick surfaces coupled with a loss of strength can lead to falls.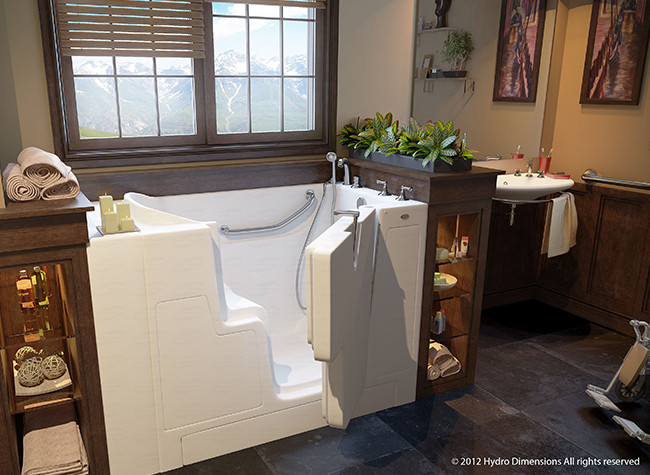 A walk in tub has much higher sides than a traditional tub, with a low-threshold door for safe and easy entry and exit. The built-in seats and integrated grab bars make bathing in a walk in tub a dignified, therapeutic experience. Your aging parent or loved one can benefit from the scientifically-proven effects of soaking in warm water. Water supports limbs and joints, allowing for easier, more comfortable movement. The soothing warmth relieves inflammation and swelling, allowing for greater blood flow and natural healing. Bathing increases your heart rate and lowers blood pressure, creating a cardiovascular response that provides the same benefit as exercise, promoting wellness in patients with a number of ailments.
At Factory Direct, we offer a line of high-quality walk in tubs that fit your existing bathroom or shower, and your budget. We are a full-service dealer, specializing in beautiful, professionally-installed walk in tubs that offer customizable jets and features, so you get the perfect tub for your unique needs. Safety, dignity and independence are more convenient and affordable than you may realize. To learn more about the features and benefits of walk-in tubs, call 1.800.748.4147  or fill out the form in the sidebar today.