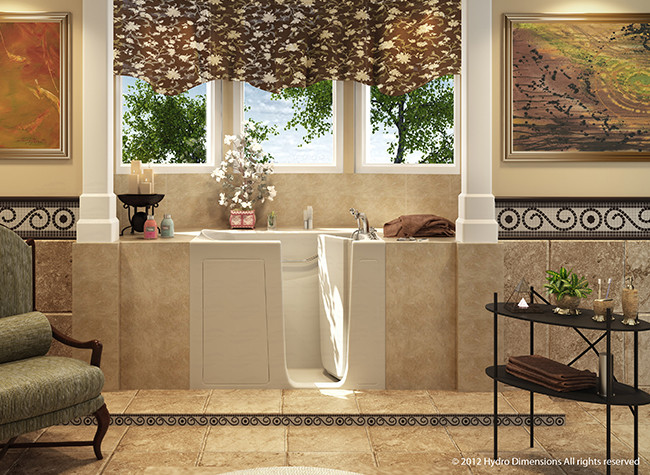 If you are considering a walk in tub, there are a number of ways they can improve your quality of life, with perhaps the most important being your safety.
According to the Centers for Disease Control and Prevention (CDC), each year thousands of people wind up in emergency rooms due to bathtub slip and fall accidents. As we age, our chances of bath-related slip and fall accidents increase. One of the main features of a walk in tub is the non-slip floors that add stability, confidence and protection from slipping in in tub. Safe entry into walk in tubs is another important safety feature. Low thresholds that are just a few inches above the floor allow bathers to simple step in and sit down as opposed to traditional tubs that require you to climb in and out of. These safety features along with stable built-in seating and secure hand rails, make walk-in-tubs the best option for anyone concerned about safety.
One of the most important things to all of us, including seniors, is our independence. For people with limited mobility and other chronic conditions, bathing assistance is often required. Bathing is something most people prefer to do in private and due to the safety features of walk in tubs, including easy access for wheelchairs, privacy and independence can be maintained. Walk in tubs are one of the best home improvement projects that allow people to remain in their homes as they age.
For the thousands who suffer from muscle and joint pain and arthritis, the warm buoyant water of a walk in tub helps decompress joints and cartilage which promotes healing and pain relief. The healing benefits from warm pulsing water have also helped people reduce their dependence on pain medications and increase their mobility.
The soothing warm water in a walk in tub can improve circulation by opening capillaries and increasing blood flow which is beneficial to the heart and improves digestion, blood pressure and other health conditions.
Anyone suffering from insomnia knows that a nice warm bath before bed can help promote a good night sleep. Having easy access to a walk in tub with its additional features such as pulsing water jets, means better sleep which leads to better health.
While walk in tubs provide health benefits for dozens of health conditions, warm water and targeted therapeutic jet sprays offer tremendous stress relief. People go to spa's to calm their nervous systems, reduce stress, improve mood, detoxify and help increase energy and feel better, physically, mentally and emotionally. Having a walk in tub in your home is like having your own private spa
If you would like to start experiencing the benefits of a walk in tub from Factory Direct, call 1.800.748.4147  or fill out the form in the sidebar today.