Are you looking for walk in tubs McHenry IL 60050?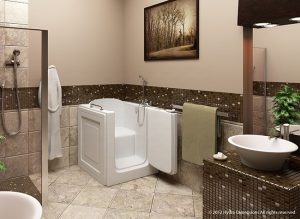 Falls in the bathroom pose a serious threat as we get older. Changes in eyesight and mobility make judging heights and distances difficult, which can lead to falling accidents. When a parent falls, the likelihood that they will fall again increases dramatically—putting them at risk for serious injury and loss of quality of life. When you need to make changes to the bathroom to ensure the safety of an aging parent or loved one, Factory Direct is here for you. Our elegant, high-quality walk in tubs are fabricated from fiberglass and gel-coated for comfort and durability. Features like slip-resistant flooring, a built-in grab bar and low entry threshold make getting all the therapeutic benefits of bathing a safe and comforting experience. For centuries, people have relied on soaking in a warm bath to relieve pain, reduce inflammation and swelling, and restore comfortable movement to the body. Known as hydrotherapy, this relaxing and beneficial practice uses warm water to increase blood flow to tired, aching or injured tissues, allowing for natural healing. Hydrotherapy is an ideal treatment for the conditions of arthritis, because it gives full, 360-degree support to stiff, aching joints. Warm-water bathing has also been shown to benefit cardiac patients by increasing heart rate while simultaneously lowering blood pressure. Hydrotherapy has also been shown to be beneficial to those who suffer with headaches, varicose veins, sciatica, knee, hip or back pain, arthritis, rheumatism, Alzheimer's and sleep disorders. A warm, soothing bath at the end of the day warms and relaxes tissues, promoting better sleep.
Walk In Tubs McHenry IL 60050
In the lovely riverside city of McHenry, Illinois, residents enjoy all the best that growing up on the water has to offer. McHenry is situated on the Fox River, and is known regionally as the "Heart of the Fox." The city lives up to its name by sponsoring fun community events throughout the year that are a great way to foster the bond between residents and visitors. In McHenry and the surrounding communities, you can count on Factory Direct to install the perfect walk in tub for a comforting, healthful bathing experience.
If you are looking for walk in tubs McHenry IL 60050, then please contact us today by calling 1.800.748.4147 or by filling out the form below: