Are you looking for walk in tubs Palatine IL?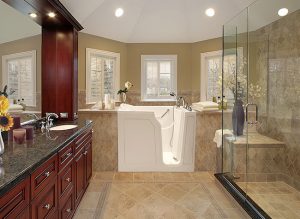 Walk in tubs are a safe bathing alternative for thousands of people including the elderly, people with mobility problems and those recovering from serious injury or illness. A safe walk in tub is a home improvement that can be lifesaving to those in need and their caregivers. They can fit into almost any traditional bath or shower enclosure and offer a safe, affordable and comfortable bathing alternative.  According to the Centers For Disease Control, the bathroom is the most dangerous room in your home and responsible for thousands of accidents each year. For those over 65, their chances of being injured in a slip and ball in the bathroom are one in three. Walk in tubs are much safer than traditional bath tubs primarily because of their low threshold entry points.  Instead of stepping over the tub wall, you can simply step in and sit down on a comfortable built-in seat. Walk in tubs also come with sturdy hand rails, non-slip surfaces and easily adjustable on off controls that help prevent scalding. In addition to the safety features of a walk in tub, the warm water with pulsing jet streams offer therapeutic healing benefits.
If you or a loved one living in Palatine, Illinois suffers from mobility issues, a chronic illness or disability, is recovering from an accident or illness or is finding it difficult to safely enjoy the comfort of a warm bath, the addition of a walk in tub could change your life. Walk in tubs allow bathers the freedom and independence they long for while at the same time gives their loved ones the peace of mind, knowing how much safer their bathing experience will be. Walk in tubs can help alleviate pain and stiffness, reduce inflammation, increase range of motion, reduce anxiety and stress, improve mood and alertness, lower blood pressure and help you get a better night's sleep.
Factory Direct offers the highest quality walk in tubs at an affordable price with your safety, comfort and independence in mind. We are committed to helping people lead fuller, happier and healthier lives. Our custom jetted walk in tubs can provide relief to aching muscles and joints of people who suffer from arthritis and many other painful conditions.
Walk In Tubs Palatine IL
While Palatine, Illinois is just 30 miles outside the big city of Chicago, it still retains that home town feel.  Palatine is a friendly community where aging residents are happy and want to remain in their homes as long as possible. Factory Direct walk in tubs can help make that dream a reality by creating a safer and more independent bathing environment. One of our walk in tub consultants can come out to measure your existing bath, discuss you specific needs and make recommendations for a home improvement that will change your life for the better.
If you are looking for walk in tubs Palatine IL, then please contact us today by calling 1.800.748.4147 or by filling out the form below: